Blog
Why Small Banks Are Expanding Despite Branch Closure Trend
June 19, 2018 |
Written by CheckAlt
Smartphone banking has become the norm. In the face of this, behemoth banks, desperate to reduce their expenses in order to keep their products competitive and please shareholders, are closing branch locations by the thousands. This has unlocked an opportunity for smaller financial institutions to buck the trend, grow their physical presence, and better serve their communities.
According to new survey data from the Federal Deposit Insurance Corporation, 1,200 small banks—many with assets at or under $5 billion—expanded their branch networks between 2012 and 2017 to the tune of more than 2,600 locations nationwide. In that same five-year span, 1,200 small banks' additions exceeded large banks' shuttered branches by more than 200, the FDIC reports.
So why are smaller banks expanding, opening more branches in the past five years than institutions have closed?
Because there is a component of banking that is still personal—face to face—based on trust. The smaller banks and credit unions are recognizing the value of establishing deeper personal connections with their customers, in conjunction with smartphone technology.
Small Bank Branch Growth: By The Numbers
The FDIC survey shows that non-community banks are the drivers of the national decline in the number of physical locations over the past several years, showing quite aggressive office reductions between 2016 and 2017. Community banks, on the other hand, have been more likely to keep their existing locations or scale up their branch networks.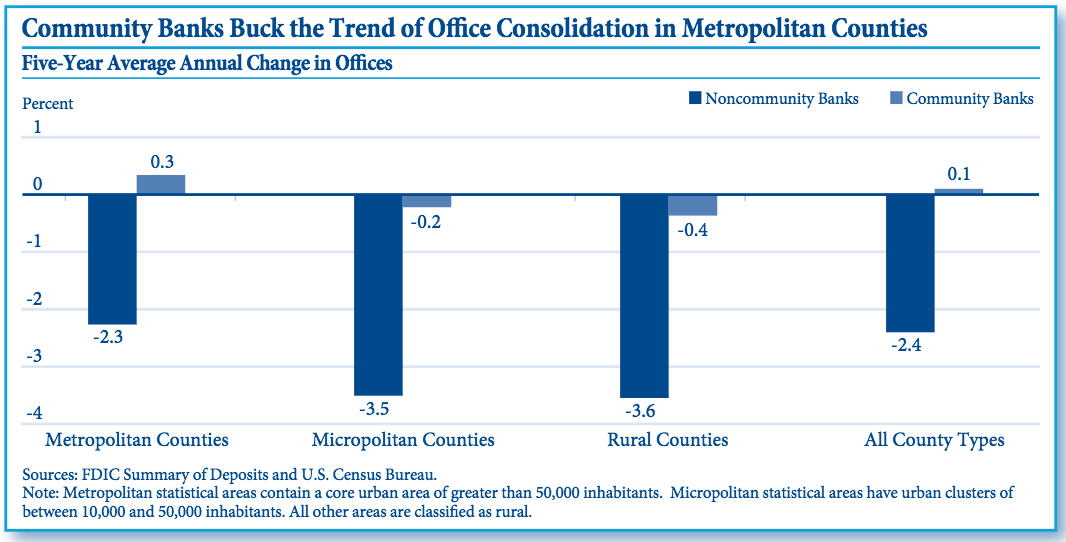 Branches help establish a bank's local presence, serving as hubs for asset management, lending, and services to small businesses, including daily paper deposits. Adding branches drives growth, but also highlights the commitment of small banks to serve local communities.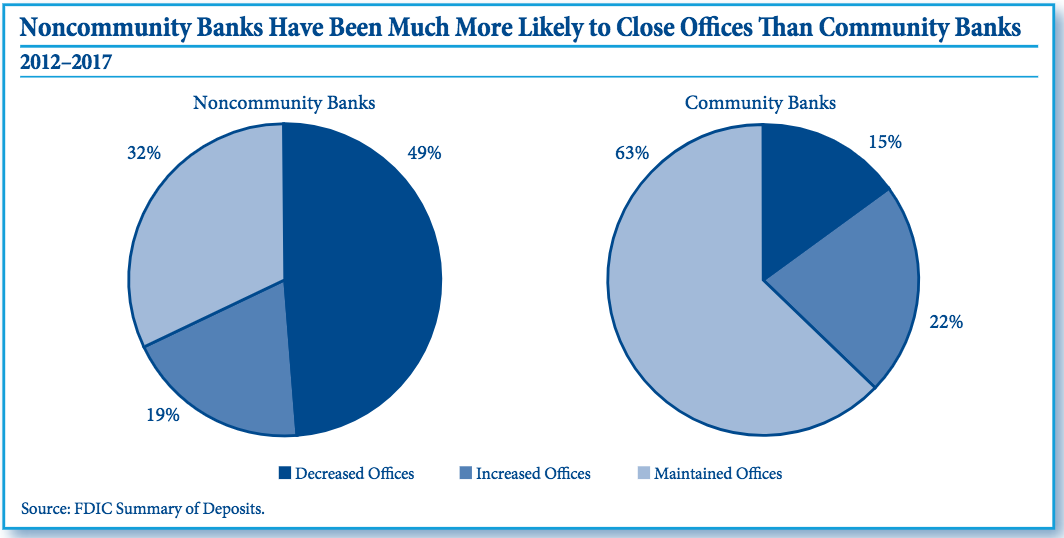 According to the FDIC, "Micropolitan and rural areas reported an increase in the pace of deposit growth, driven by community banks. Community bank deposit growth has exceeded noncommunity bank deposit growth on a percentage basis in metropolitan, micropolitan, and rural areas since 2015."
Three banks recently featured in the Wall Street Journal exemplify this branch expansion trend: Century Bank, WSFS Bank, and Riverview Financial Corp.
Century Bank Expands Across Massachusetts
"Branches still have a very important role in the organic growth of the bank," Century Bank CEO Barry Sloane told the WSJ. He said his bank expanded to 27 offices, up from 22 offices in 2008.
Century Bank is known for being the largest family-run bank in New England, founded by Barry's father, Marshall M. Sloane, in 1969. Sloane's sister Linda serves as the bank's executive vice president.
Sloane said branches are not only a branding tool, but a conduit for helping customers solve problems. At the branch, a banker can help address customer concerns, or simply walk through setting up an account.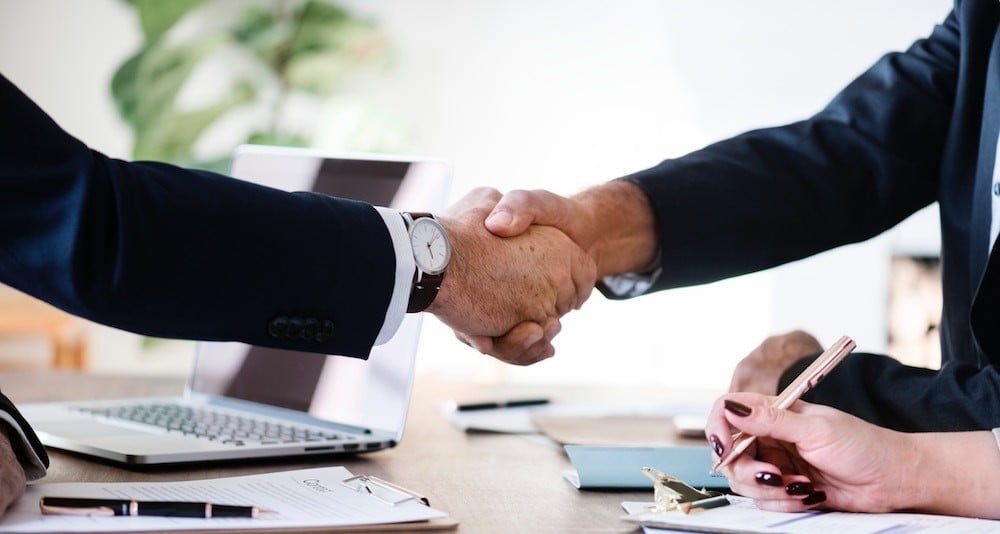 Riverview Financial Corp. Benefits from Branch Closures
Brett Fulk, CEO of Riverview Financial Corp., told the WSJ that Riverview Bank has benefitted from other banks' branch closures. "In every instance we have seen significant new account activity at our nearest offices," Fulk said.
Riverview Bank, based in Harrisburg, Pa., was created in 2008 when Halifax National Bank joined First National Bank of Marysville. In the past decade, the $1.2 billion-asset bank has been able to grow its branch network through three other acquisitions, bring its branch total to 33, according to the WSJ.
Riverview Bank started out with seven branches, expanding in 2013 with the acquisition of Union Bank and Trust. The bank expanded again in 2015, acquiring Citizens National Bank of Meyersdale (now known as Citizens Neighborhood Bank) and in 2017 with the acquisition of CBT Bank.
WSFS Bank Adds More Retail Branches
Acquisitions are just one tactic smaller banks use to expand their branch networks, while others are purchasing locations from other institutions, leasing vacant property or building from the ground up.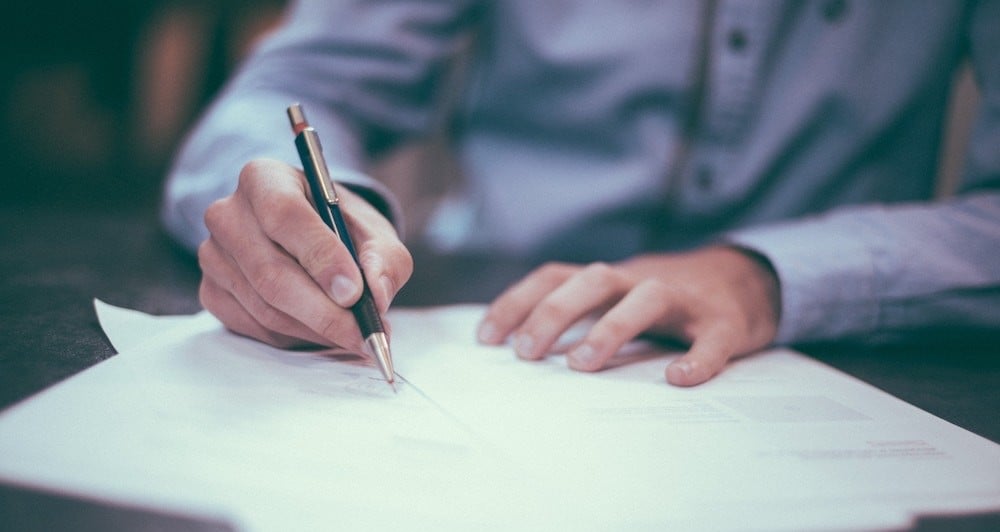 These banks, including WSFS Bank, are responding to demand from being a community establishment that focuses on personal connection. That's according to WSFS Financial CEO Mark Turner, who told the WSJ that he expects more profitable banks to add branches, because there are "more people out there spending and saving and investing."
One of the 10 oldest banks in the nation operating under the same name, WSFS Bank is the largest locally-managed bank in the Delaware Valley. According to the WSJ, the bank expanded its retail branches to 58, up from 32 in 2008.
How CheckAlt Helps Banks Run Their Branch Networks
Despite customers increasingly using smartphone-enabled technology to access their accounts, they continue to demand access to tellers and ATMs. In 2015 alone, 75 percent of households in the U.S. used bank tellers, and 70 percent used an ATM or kiosk, according to the FDIC. It's clear that physical offices are still a vital channel for banks, and that technology is complementary to brick-and-mortar banking.
By opening more branches in communities across the U.S., these small banks are serving that demand, strengthening personal connections with their new and existing customers.
Community is everything to us. Here at CheckAlt, we are proud of the personal connections we have made with the 600-plus financial institutions we serve. We know that in today's economy, our clients and their customers value personal connection. And personal connection builds trust.
A branch location's arteries are built on item processing and check capture. Prior to a CheckAlt client opening a new branch, CheckAlt provides dedicated support, training the branch team on using our Branch Capture interface. CheckAlt's Branch Capture is helping banks scan not only checks but additional bank documents like deposit slips.
We also support clients in opening a new branch by connecting the branch to our long-term archive site, which allows users to quickly access check images and customer statements. For all, we provide user manuals and quick guides—including guides on scanner maintenance.
Tellers and branch operations are provided a contact sheet with phone numbers and email addresses of CheckAlt's operations and resolutions team for 24/7 support, in the event they need assistance with daily processing.
CheckAlt provides continued support after the branch is open. Tellers can contact us to assist with balancing any items captured, or to receive assistance researching a client's request. We're always available.
---
This article originally appeared on LinkedIn.
© 2018 CheckAlt. All Rights Reserved.