Blog
CheckAlt Completes Significant Milestone with Release of CaptureNet Management 3.0
June 26, 2020 |
Written by Tiffany Rider
CheckAlt is delighted to announce the release of CaptureNet Management 3.0, the latest version of CheckAlt's hub for all capture channels from ATM to branch to mobile device. Our IT Team has improved the overall performance and functionality of this product including single sign-on and private-label capabilities, multi-factor authentication, and customizable permissions—all presented within a fresh, streamlined web interface.
"It is important for us at CheckAlt to listen to our customers as well as our internal employees to constantly improve our products and services," said CheckAlt's Chief Product and Innovation Officer Bobby Rahmanian. "CaptureNet Management is certainly one of those products and is at center to our strategy going forward, therefore continuous investment in this product is going to be very important to us."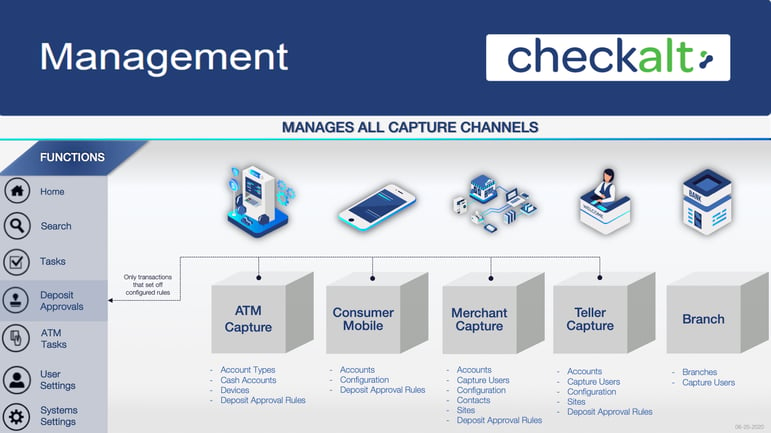 CaptureNet Management is used by CheckAlt's clients and internal staff to manage how transactions are treated as they are processed, managed, and stored in our system. As seen in the graphic above, all necessary settings, permissions, and process flows are dictated within CaptureNet Management.

According to Rahmanian, there are four key improvements from the previous version of CaptureNet Management that appear in version 3.0. They are:

1. Single sign-on capability. As CheckAlt engages with more fintechs and financial institutions, we have learned that the ability to have a seamless experience for the back office management is very important. To meet this need, we made sure that 3.0 supports single sign-on (SSO) and developed APIs to extend the platform for current and future clients and partners.

2. Private labeling. The newly redesigned CaptureNet Management web portal can be private labeled. Clients can simply apply their branding to the site for a seamless user experience.

3. Multi-factor authentication. This new feature of 3.0 is crucial from a security perspective.

4. Customizable user groups. Every client can create their own specific groups with specific permissions and roles set up within CaptureNet Management 3.0.

"There are so many updates and new features added to CaptureNet Management 3.0 that it will definitely make your daily processing, reconciliation, and research tasks easier and less time consuming," said CheckAlt's Client Services Manager Carolyn Morris, who interacts with our CaptureNet Management portal every day. One of Morris' favorites among the enhancements to appears on the portal dashboard in the form of added data. "Previous Day Processing" and "3 Month Snapshot" graphs provide the user with both item and dollar counts, plus usage tallies of the various processing methods enabled: ATM, branch/teller, business remote deposit capture, and mobile. This at-a-glance feature helps users keep track of transactions as deposits are processed throughout the day.

CheckAlt is also proud of the enhancements to the extended deposit approval (EDA) functions within the portal, which now shows a count of pending EDA items with a convenient link that takes the user directly to the approval process. "Just wait until you see the upgrade of that screen," Morris shared with excitement.

As CheckAlt develops and enhances our software products, clients and employees are engaged regularly to understand how the products are used and where improvements can and should be made. In the case of CaptureNet Management, "we felt like there were significant enough changes where changing the architecture was important," Rahmanian explained. These architectural changes to CaptureNet Management have strengthened the stability of the product and simplified the process of adding new features going forward.

"CheckAlt's development team is always hard at work to further our growth and strategies," said Kristina Rogers, Operations Administrator for CheckAlt. Rogers is an integral part of our item and lockbox processing operations and supports customer experience daily. "I am so proud of our team and their continuous effort to make our customer experience a pleasant and effective one."

To learn more about CheckAlt's consolidated item processing solution utilizing CaptureNet Management 3.0, click here.