News
CheckAlt Daily Status Updates
Apr 14 2020 |
Written by CheckAlt
April 14, 2020
Today, CheckAlt continues to operate from a position of strength with a dedicated focus on keeping our employees safe and workplaces sanitized.

I am inspired by and hopeful for the efforts that various state governments are taking to prepare for a post-pandemic economic reboot. We are just getting a first glimpse at the new guide for how California will reopen, and New York Gov. Andrew Cuomo is reporting that hospitalizations in that state are continuing to decline. A cautious economic revival is critical, and we continue to support the positive efforts of elected representatives and business leaders across the country.

One of the challenges that began far before our current situation and has become exacerbated in these unprecedented times is the ability for the underbanked to deposit check payments. CheckAlt will soon announce a partnership with a mobile application provider to deliver an innovative remote deposit capture solution for the underbanked. In addition, we at CheckAlt are interacting with financial institutions that are providing payment protection plan (PPP) loans to help them outsource their processing needs in order to meet deposit requirements and prevent delays.

We at CheckAlt feel it is now time for our daily message to become a weekly message. Unless we have a message of operational importance to deliver, we will begin sharing end-of-week updates this Friday.



Stay healthy and safe!
Shai Stern
Co-Chairman and CEO
917-579-3107
sstern@checkalt.com
---
April 13, 2020
Happy Monday everyone. I hope you all enjoyed Passover and Easter. The latest news about the U.S. economy is hopeful in that a "rolling reentry" of business operations could begin as soon as next month.
We recognize that the only way that can happen is if we, amongst all other employers, and our employees—all of us—do our part keeping our workplaces sanitized. We continue to follow sanitization and health safety guidelines from local, state, and federal officials across our nationwide network, and expect staffing to continue to stabilize. We are also in regular communication with USPS on temporary suspensions at post offices across the country, and are actively discussing mail delays with clients that may be affected.

Today more than ever, we at CheckAlt are evolving our existing business through digital optimization and transformation to ensure remote work continues to be completed securely and efficiently. I am grateful to the leadership of our CIO Ram Bajaj whose dedication to rolling out our hybrid approach during this situation and to our strong product roadmap exemplifies the gusto we must all have to overcome these difficult times.

As shared last week, we at CheckAlt have a goal of becoming your universal payment house and to process your check, electronic, and card payments. From processing paper, to converting paper to electronic, to providing integrated payables solutions alongside our receivables products, I am pleased to share that the momentum we have been building before this situation has not been derailed. Rather, we are continuing to build on that momentum by adding new services for many of you and bringing on new business.

Stay healthy and safe!
Shai Stern
Co-Chairman and CEO
917-579-3107
sstern@checkalt.com
---
April 10, 2020
We close out this week with more good news: staffing levels continue to stabilize and mail volume remains steady. We continue prioritizing the health and safety of our employees by thoroughly cleaning our processing centers daily and reminding staff to follow CDC guidance including hand washing and social distancing. The actions we are taking at CheckAlt are part of a global effort involving government and business leaders such as Bill Gates and Jack Dorsey who are generously stepping up to help us all.

I am excited to share that our Product team is preparing to roll out significant upgrades to our web portals in the coming weeks, including amazing user experience enhancements and features you, our clients, have requested. It is critical for us as a company to stay the course and pursue our vision to become your universal payment hub for paper, electronic, and card transactions. By releasing upgrades to our products, we are showing the strength and resilience of CheckAlt through these trying times.

I wish everyone a wonderful weekend and, as always, stay healthy and safe!

Tiffany Rider

---
April 9, 2020
Today's message continues our focus on positivity and hope. Where we were experiencing staffing and postal issues, we are now seeing staffing levels stabilizing and limited postal delays.
We continue to follow the CDC's guidelines at each of our sites to keep our employees safe and healthy, and are continuing to improve our operations to better serve you, our clients. For example, our Customer Experience team has rolled out a new program of primary and secondary assignments for each client to always ensure coverage and assist with issue resolution.

As we mentioned last week, we were surprised that clients were not tapping into our electronic payments products. We are pleased to report that we are seeing an uptick in clients signing up for and onboarding our ACH and card solutions for customers. We continue to encourage each and every one of you to tap into these services. If you would like to implement electronic payments for your customers, or need support processing mail, please contact us.

Stay healthy and safe!
Tiffany Rider & Peter Hickman

---
April 8, 2020
Today we are hearing positive news from the federal government that a turnaround is expected after this week with parts of the economy restarting, and that the U.S. Treasury is committed to providing loans for small businesses to stay afloat.

Smooth seas never made a skilled sailor. We at CheckAlt continue to weather the challenges posed by this situation and every day my appreciation grows for our dedicated team members who remain optimistic about brighter days ahead. And for you, our clients, who have been supportive and understanding through this time, we want to thank you for your recognition of our efforts and your willingness to be patient as we are all attempting to do our best.

Passover is a time of miracles. Let's hope and pray the positive and hopeful news continues. Though I and some of our executives will be celebrating Passover this week, please know that we have a very strong management team steering the ship. Were you to need anything at any time, please do not hesitate to reach out to Tiffany Rider, Peter Hickman, Allison Murray, and Lou DiLeo. See their contact information below:

Tiffany Rider, Managing Director of Communications
-Direct: 209-285-0800
-Email: trider@checkalt.com

Peter Hickman, Head of National Operations
-Direct: 908-418-3496
-Email: peter.hickman@checkalt.com

Allison Murray, Chief Growth Officer
-Direct: 973-219-2631
-Email: amurray@checkalt.com

Lou DiLeo, VP of Operations and Remittance Processing
-Direct: 239-282-4228
-Email: louis.dileo@checkalt.com

Stay healthy and safe!
Shai Stern
Co-Chairman and CEO
---
April 7, 2020
CheckAlt remains positive and optimistic about our ability to continue operations through this fluid situation despite postal and staffing issues. Most of our sites remain fully operational with no impact or delays, and where we have experienced some staffing issues we anticipate to see those issues resolved in the days ahead.
In addition, we are proud to report that our team continues to make sure that ATM deposit automation work is handled properly and ATM heartbeats are actively monitored daily.

Some of you, our clients, have reported that your mail delivery volumes have been down significantly. While we at CheckAlt are not yet seeing the impact of this, it is likely that we will see reduced mail volumes at some of our sites in the coming days.

As a proactive approach to these issues, many of you have chosen to adjust or delay late fee assessments, particularly those in the real estate industry. We urge you to discuss this option with your customers and consider updating your systems to prevent undue assessments.

At a time when many small businesses are applying for newly available government loans, we at CheckAlt understand even more how processing of payments for our clients is of the utmost importance. Please know how seriously we are taking our role every single day.

Stay healthy and safe!
Shai Stern
Co-Chairman and CEO
917-579-3107
sstern@checkalt.com
---
Monday, April 6, 2020
Happy Monday. I hope all is well with you. In this third week of CheckAlt operating in our hybrid mode of employees working both on-site and remote, I am proud to say we have settled in beautifully. Here is a photo featuring some of our team members: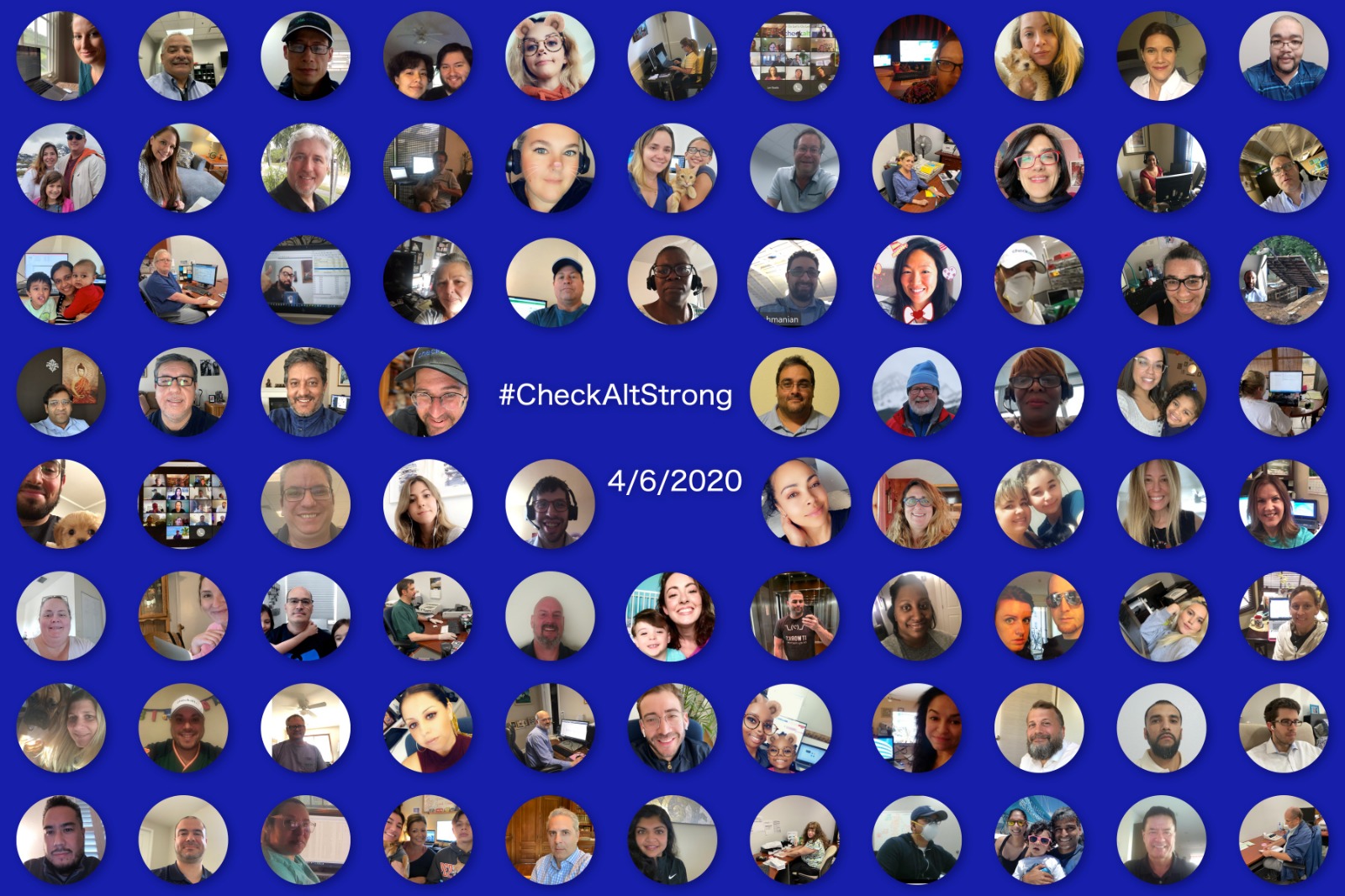 Even though we have experienced some staffing and postal issue at our different facilities, our team continues to step up and do the best they can for our clients. I am incredibly grateful for the team that we have today and the leaders we have cultivated within our company. Here are some examples of leadership from our team:

Our Chief Product & Innovation Officer Bobby Rahmanian wanted to share this message:
Our product team has been focused on adding card and ACH options to our electronic payment products and enhancing our remote deposit solutions to further assist banks, credit unions, property management companies, and other businesses in this time of social distancing.

Louis DiLeo has this advice to share for those who are being cross trained on our various processes:
• When in doubt, shout.
• If you're not sure, knock on the door.
• If you don't understand, raise your hand.
• When you guess, we can make a mess.

Caroline Severino spent the weekend making masks for our team members: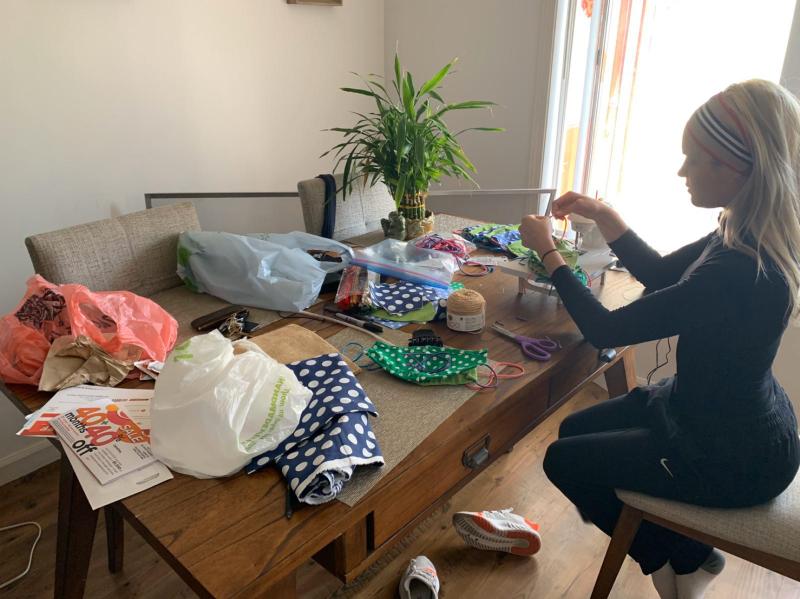 Stay healthy and safe!
Shai Stern
Co-Chairman and CEO
917-579-3107
sstern@checkalt.com
---
Friday, April 3, 2020
Good evening to all of our wonderful clients. I want to share with you some of the messages that I expressed to the team today on our company-wide call.

I am incredibly proud of the teamwork and dedication our team has shown through this challenging time. It's inspiring to see how together, we at CheckAlt are stepping up to become the best we can be. Even with the current situation, we have more than 90+ employees of our 240 showing up at our locations across the U.S. to help ensure your mail gets processed and deposits are delivered. Those who are working from home continue to support our existing clients and foster new business relationships. CheckAlt's sales team did an incredible job closing multiple new deals this week that will result in the processing of paper and electronic payments for essential financial services companies.

This upcoming week marks the beginning of Passover, one of the highlights of the Jewish calendar. It is a time of celebration and of storytelling, particularly the retelling of stories about suffering and slavery, but most importantly about exodus, rebirth, and rebuilding. As I told our employees today, it can sometimes be difficult to relate to suffering if you haven't experienced it or been impacted by it. In the Stern house, we tell stories about how my grandparents survived the Holocaust, how they came to this great country and as well to Israel to rebuild their families, and how grateful we are to them for their resilience and their perseverance.

In the midst of these challenging times, we may view governmental stay-at-home orders and social distancing mandates as punishment. What we must all understand is that, though it is difficult for everyone, our collective sacrifice to quarantine and practice social distancing at this time is helping us and making us stronger.

As the tulips bloom, remember that springtime is about growth. We are growing and building resilience through this together. I wish everyone a happy, safe, healthy weekend and happy Passover.

Stay healthy and safe!
Shai Stern
Co-Chairman and CEO
917-579-3107
sstern@checkalt.com
---
Thursday, April 2, 2020
I wanted to share that today, as I was having Zoom meetings across the company, I was rather surprised to hear that our existing clients are not taking further advantage of our Catch!, virtual card, ACH, and merchant processing services.
I wanted to take this evening's message to encourage you—each and every one of our clients—to reach out to your relationship manager or to meet with them directly in order to understand how you can turn on these features and how you can benefit from them given the current times.
We are operating in a very strong capacity, so if you, our clients, have any businesses that are not currently using us and would like to send us their checks, or internal processing of loans that you need assistance with, please take advantage of our team at CheckAlt. We are here to help you and alleviate any operational burdens you are currently faced with.


Stay healthy and safe!
Shai Stern
Co-Chairman and CEO
917-579-3107
sstern@checkalt.com
---
Wednesday, April 1, 2020
I am glad to hear from so many of you that these daily updates are encouraging and helpful. While we continue to manage postal delays and local staffing issues, CheckAlt continues to operate at a very high level.

Social distancing efforts are offering a glimmer of hope, and at CheckAlt we continue to ensure all employees have clean, safe work environments that allow for social distancing. I remain incredibly humbled by the efforts of our team members to do all that they can to serve our wonderful clients.

We are forever grateful for our nationwide network of sites, which is enabling us to assist and provide strength. Where we might be short-term challenged in one location, we are very strong across the country and are able to redirect work in order to facilitate processing as close to normal as possible.

We thank our clients again for all of their continued support and understanding through this challenging time.


Stay healthy and safe!
Shai Stern
Co-Chairman and CEO
917-579-3107
sstern@checkalt.com
---
Tuesday, March 31, 2020
We at CheckAlt continue our operations while managing local staffing and postal delays, providing separate daily updates to affected clients. Please know that if you have not been affected, we have not contacted you. If you are affected, we are making sure you are notified immediately.

As we all heard this afternoon, President Trump delivered a rather grim message that the next two weeks are looking rather bleak. What has been a scary time suddenly looks even scarier. As an essential business, our job at CheckAlt is to maintain positivity about our operations, to do our best to support our wonderful clients, and to salute the efforts of the USPS and those that support us.

It is of utmost importance—especially given the news that President Trump has delivered this afternoon—that we pray and maintain all efforts for the safety, health, and well-being of our employees, and all of those that support us and our teams around the country. We will continue to provide valiant efforts on behalf of our clients to provide the best services possible for you as this fluid situation continues to evolve.

We ask each and every one of you, our dear clients, to please exercise your greatest amount of patience, professional courtesy, care, and concern at this time as we all struggle to make sense of this and to keep our heads high. We look forward yearningly to seeing the light at the end of this dark tunnel.

Stay healthy and safe!
Shai Stern
Co-Chairman and CEO
917-579-3107
sstern@checkalt.com
---
Monday, March 30, 2020

We hope you all had a restful weekend and are staying safe. CheckAlt is operating as usual per our update on Friday, with partial disruption for some clients due to local reduced staff and ongoing challenges experienced by USPS to fulfill their normal deliveries.
As indicated by these daily updates, we at CheckAlt recognize the importance of ongoing communication today and every day. Below is a reminder about our main phone number and email address, as well as an update on direct phone numbers for critical team members.

As you know, CheckAlt implemented a new phone system with one phone number — 213-634-7187 — that is answered and monitored during regular work hours Monday through Friday. This new system, powered by Zoom, also provides direct phone numbers for members of CheckAlt's Production, Item Processing, and Transmissions teams (see below).

We also updated the general contact email for our Customer Experience team to Assist@CheckAlt.com. Please be sure to update your contacts accordingly.

To ensure all email communications are captured, we are temporarily redirecting messages sent to our old emails CustomerCare@CheckAlt and HelpDesk@CheckAlt to the new inbox Assist@CheckAlt.com. These old email addresses will eventually be phased out completely. We will notify you in advance of that final change.

Klik Production/Transmissions (New York):
• Louis DiLeo: 239-282-4228
• Jermaine Brooks: 213-634-7885
• Manuel Rosa: 209-396-2258
• Taneisha Alveranga: 209-396-2142

ERAS Transmissions (Miami):
• Raul Samudio: 786-408-5829
• Johel Garcia: 786-688-3528
• Gavin Ferriero: 213-634-7166

ERAS Item Processing:
• Kyle Yee (Miami): 339-210-5694
• Pamela Ferriero (Miami): 786-408-5877
• Carol Bartz (Tampa): 786-408-9709
• Dianna Durden (Tampa): 845-288-2386
• Lucas Johnson (Atlanta): 248-861-2024
Stay healthy and safe!
Shai Stern
Co-Chairman and CEO
917-579-3107
sstern@checkalt.com
---
Friday, March 27, 2020

Happy Friday. As an essential business, CheckAlt continues to operate as usual, with partial disruption for some clients where we are experiencing some local reduced staff and postal impact.
USPS has indicated that they are experiencing challenges with fulfilling their normal operations and deliveries. We will share more as we learn from USPS where the impact is and what to expect.
In addition, we are expanding our shift and operating hours to allow for greater flexibility to serve our clients and to provide more social distancing and comfort to our staff as their safety and well-being remain a top priority.

If you have any questions or concerns, please do not hesitate to reach out.


Stay healthy and safe!
Shai Stern
Co-Chairman and CEO
917-579-3107
sstern@checkalt.com
---
Thursday, March 26, 2020
Today's update focuses on two areas: sanitization and mail delivery.

As this situation continues to evolve, keeping work spaces clean is critical to the health and safety of our employees. I am receiving daily reports about our ongoing sanitization efforts at each of our processing sites and continue to work with site managers to ensure cleanliness is a top priority.

We are also continuing to closely monitor post office activity for delays and will keep you apprised of any changes.


Stay healthy and safe!
Shai Stern
Co-Chairman and CEO
917-579-3107
sstern@checkalt.com
---
Wednesday, March 25, 2020
For today's update, I wanted to share an article about how Goldman Sachs CEO David Solomon is communicating messages of encouragement with the firm's 38,000 employees to help them stay healthy and safe through this challenging time. Please read the article here.

We at CheckAlt are taking a similar approach with virtual meetings and daily reminders about the importance of taking care of ourselves so that we can take care of each other. We encourage everyone who is now working remotely to take notice when the balance home life and work life becomes unbalanced. You can still take a walk while heeding the CDC guidelines, so be sure to get some fresh air.

At the same time, we are closely monitoring the sanitization efforts of our work environments for our production teams so they feel safe going into the office and facilitating payment and remittance processing across the country. As mentioned yesterday, we are grateful for their valiant efforts. CheckAlt remains operational at all 13 of our processing sites and we still do not anticipate any closures.

Stay healthy and safe!
Shai Stern
Co-Chairman and CEO
917-579-3107
sstern@checkalt.com
---
Tuesday, March 24, 2020
Today's update is brief yet full of optimism and hope.

We are grateful for the valiant efforts by our operational, lockbox, and processing teams who are showing up for work at our processing sites across the country. It is their sense of purpose and commitment to clients that is emblematic of our culture and a source of pride and inspiration for us.

As demand for our processing centers increases, we have now green-lit hiring of additional staffing for CheckAlt.

We are also reminding all CheckAlt employees of our safety and security guidelines as the safety and well-being of our staff remains our primary concern.

Finally, we have received many new inbound opportunities for our electronic payment services —including Catch!—which underscores the need for paperless solutions.

Feel free to contact me with any questions or comments. I am always available.

Stay healthy and safe!

Shai Stern
Co-Chairman and CEO
917-579-3107
sstern@checkalt.com
---
Monday, March 23, 2020
As we continue into our second week of operating our business following our hybrid approach, we at CheckAlt remain committed to our clients and to our employees. The way we define our hybrid approach is that those who can work remotely are working remotely, and those whose jobs require them to come in and process mail are working from our processing centers.

CheckAlt is considered an essential business under the guidelines set forth in states that have mandated stay-at-home policies, which enable us to continue the vital work of supporting financial institutions, municipalities, utilities, medical operations, property managers, nonprofits, and other vital businesses that are powering the economy.

We have been discussing the critical nature of both internal and external communication throughout this evolving situation. We will continue to provide status updates to you on a daily basis about the status of CheckAlt's operations and our ability to support our clients.

We are pleased to report that today, Monday, we have been able to process all of your payments as usual.

If you or your customers need assistance with processing mail or facilitating electronic payments, please coordinate with us. We are here to assist.

Feel free to contact me with any questions or comments. I am always available.

Stay healthy and safe!

Shai Stern
Co-Chairman and CEO
917-579-3107
sstern@checkalt.com
• Update from Friday, March 20, 2020
• Update from Thursday, March 19, 2020
• Update from Wednesday, March 18, 2020
• Update from Tuesday, March 17, 2020
• Update from Monday, March 16, 2020
• Update from Sunday, March 15, 2020